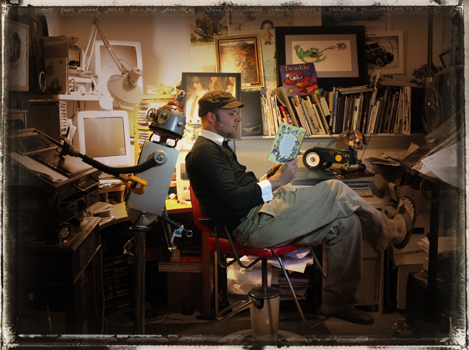 SCOTT M. FISCHER graduated with honors from the Savannah College of Art and Design (1994) and since that time his brush has steadily been carving a path along the illustration landscape.

He is the New York Times best selling illustrator of Geraldine McCaughrean's Peter Pan in Scarlet . (Simon and Schuster). He is a notable cover artist for many of today's leading book publishers including, Simon and Schuster, Tor, Harper Collins, Scholastic, Penguin, Del Rey, Daw, etc.

In addition to being a renowned cover illustrator, Scott is a children's book writer/illustrator. His first children's book Twinkle (Simon and Schuster) hit the shelf in 2007. Followed by, ' Animals Anonymous ' in 2008 .(Richard Michelson, Simon and Schuster). His book 'JUMP!' (2010 Simon and Schuster) was selected to be a part of Cheerios Spoonfuls of Stories promotion, circulating over a million copies. He is the illustrator of the Lottie Paris children's books, written by Angela Johnson. (2011, 2012, Simon and Schuster.)

Scott is known in the middle reader genre from his work on 'The Secrets of Dripping Fang' series (Dan Greenburg- Harcourt) and his currently working on the'Scary School' series of books (Author: Derek Taylor Kent) for Harper Collins.

Scott is also a noted conceptual character Designer, having helped create worlds for Microsoft, Sony, and Disney on their Tron franchise.

A sampling of the worlds Scott's paintbrush has visited includes Tron, Halo, Harry Potter, Star Wars, Robert Jordan's 'Wheel of Time', Magic- the Gathering, and Dungeons and Dragons.

Scott lives in Belchertown, MA with his wife, daughter and a menagerie of animals.